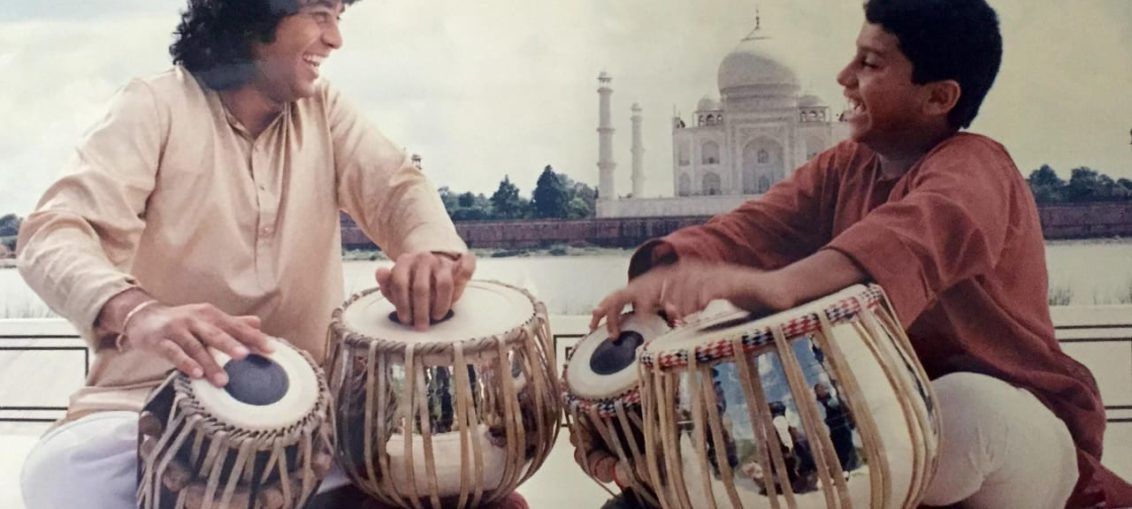 Tabla maestro Aditya Kalyanpur to pay tribute to his guru Ustad Allah Rakha Khan through his solo act in Pune on 13 th october '18!
PUNE: For the first time ever, tabla maestro Pandit Aditya
Kalyanpur, who belongs to the Punjab gharana, will perform a solo act and play all the six gharanas of tabla for the Punekars on October 13 at 5 pm at Savai Smarak, Shivajinagar, Pune.
Aditya, who rose to popularity at the age of nine for his television commercial appearance in the 'Wah Taj' advertisement alongside Ustad Zakir Hussain in the 1990s, always love performing in Pune. In fact, he has been coming to Pune for the last 25 years. But this time, it's special. It's not only his solo act in Pune after a decade, but the programme, titled 'Talsparsh Sangeet Mahotsav' has been organized by Talsparsh Tabla Academy, Pune, in the loving memory of Aditya's guru and tabla legend Ustad Allah Rakha Khan.
The one-day festival, which will take place at Savai Smarak, Shivajinagar, Pune will see the tabla virtuoso perform for one-and-half hours. Talking about the event, Kalyanpur said, "This programme is very close to my heart since I will be paying a tribute to my guru through my performance. Talsparsh Tabla Academy has organized the programme in my guru's memory. In fact, it was my guru who suggested my name for the 'Wah Taj' television commercial. Also, it's a blessing to play for the audience in Pune because they have a refined taste in music."
Having received training under the legendary Allah Rakha, whom Kalyanpur lovingly calls 'Abbaji', the child prodigy, today, is the rightful heir to the Punjab gharana tradition. To pass on the knowledge and rich tradition of tabla to the next generation, Kalyanpur has founded the New England School of Music in Boston in 2008. Kalyanpur was only six-year-old when he made his stage debut.
The tabla maestro has performed alongside legendary Indian classical stalwarts such as Pandit Jasraj, Pandit Shivkumar Sharma, Ustad Amjad Ali Khan, Dr Mrs N Rajam, Grammy awardee Pandit Vishwamohan Bhatt and Shahid Parvez to name a few. Kalyanpur is also popular for recording with pop star Katy Perry for her album 'Prism' on the single 'Legendary Lovers' produced by Doctor Luke.
For those unaware, Kalyanpur is one of the few musicians in the world who has played with veteran jazz guitarist Larry Coryell, also known as 'Godfather of fusion'. Kalyanpur also cherishes the moment he recorded for the famous single 'Mere Dholna' for Vidya Balan-starrer Bhool Bhulaiya. "I worked with music director Pritam on the song and it was a memorable experience. I also have great memories performing on a world tour with Oscar and Grammy awardee AR Rahman. I have also performed with Shankar Mahadevan on several live concerts and his energy on stage is electrifying,' said Kalyanpur, a disciple of Ustad Allah Rakha and Ustad Zakir Hussain.
Kalyanpur, who taught at Harvard Sangeet School, Boston, has also established the Shyamal Music Foundation (SMF) in Mumbai, in loving memory of his mother, who died of cancer. "Through charitable concerts 'Disha' the foundation also raises funds for needy cancer patients. SMF has, so far, featured over two dozen artists and supported over a dozen kids suffering from cancer," said the tabla maestro.
Come October 31 and the maestro, who has recorded with John Beasley, former American Idol music director and Grammy-nominated musician, will head to Norway to play the tabla at the Oslo World Music Festival. He will also return to perform in Pune soon to play the beats at the Pt.Jitendra Abhisheki Sangeet Mahotsav with violin legend Dr Mrs N Rajam.