Before the release, when people who asked Kangana if she'd be able to helm and take over the double responsibility as an actor and director both for Manikarnika which is a historical war biopic have been silenced and shut their mouths as Kangana's directorial debut has earned 42.55 crore in first weekend itself, henceforth registering and marking the highest weekend collection for a female centric historical war biopic film. With Manikarnika, Kangana has broken her own record where Tanu weds Manu Returns (2015) held highest grossing distinction and title till now.
Manikarnika has earned approximately 5.12 crores on Monday and has kept the momentum on high rise quite strongly.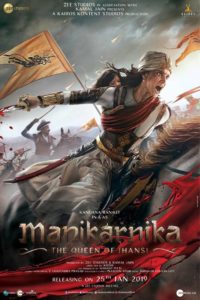 While traditionally very few of male superstars had that sort of power and aura to get audiences and film critics to theatres, trade expert Amod Mehra has pointed out the fact that Kangana along with her batallion of few female peers have literally changed the entire film game.
Bollywood trade smith Smith Wankhede has said that Kangana Ranaut has proved herself yet again with the fact that she is one of the most successful and commercially viable stars in Bollywood. Be it Queen (2014) or Tanu Weds Manu Returns (2015), Kangana has flawlessly and quite strongly carried these films on her shoulders.
For most of bollywood film actors and directors nowadays, success is an amalgamation of talent, luck and support from film fraternity with zilch and zero amount of hardwork.
However, even then there are a few actors in Bollywood who have started their career from the scratch, entered the industry without any film background and boasting no god fathers as it is nowadays and they constantly believe in making a mark for themselves by solely relying and working hard relentlessly with their talent and grit to reach the pinnacle or peak of glory and success.
If such a person becomes successful and a big name in B town, people usually start questioning their ability and capability as it sort of scares them to core to see such talent getting more honed, nuanced and better with each passing day.
Often being subjected to all of this, is our Bollywood's very own reigning queen and Jhansi Ki Rani Lakshmi Bai who's proved herself as a versatile stellar performer with each film of hers, the national award winning actor Kangana Ranaut.
The actor and now director Kangana Ranaut played the role on silver screen with such finesse and perfection, that Rani Lakshmi Bai came alive on the celluloid because of her.
She's like this in real life as well where she faced a lot of struggles, issues during the filming of Manikarnika but she defied and braved all these odds and now the film is being applauded and raved about by both audiences and film critics and all are actually speechless by seeing her flawless and smooth performance as braveheart and valiant queen in the film.
When Kangana comes on screen, she literally owns it and this time also was nothing different as people couldn't take their eyes off her throughout the entire movie.