Veteran and legendary actor Manoj Kumar has given us memorable films with his iconic performances in bollywood films and his impactful acting and characters are still remembered by everyone even today.
He is also known as Manoj Bharat Kumar. He is the pioneer of patriotic films in India which includes his career best performances in Shaheed (1965) based on life of Bhagat Singh the independence revolutionary, Upkaar (1967), Purab aur Paschim (1970), Beimaan (1972), Roti Kapda Aur Makaan (1974), Sanyasi (1975), Dus Numbri (1976), and Kranti (1981).
He's been conferred the Padma Shri by Government of India in 1992. He has also been awarded the highest award in Indian cinema, The Dadasaheb Phalke Award in year 2015.
He was recently invited as a special guest during the screening of Manikarnika in Mumbai.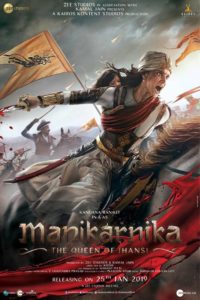 Manikarnika : The Queen of Jhansi features stellar performer Kangana Ranaut playing leading pivotal role of Rani Lakshmi Bai of Jhansi.
It narrates the story and life of our country's first fierce female warrior queen Rani Lakshmi Bai of Jhansi who is a national hero and epitomizes bravery and stealth.
Evergreen and legendary actor Manoj Kumar has praised the film saying, "The national hero Rani Lakshmi Bai of Jhansi sleeping in history since so many years has been immortalized and made alive by Kangana's extraordinary and versatile performance in the film. I feel that Kangana was born to do this role. Everyone has done fabulous work in the film. But with the evergreen chant of Har Har Mahadev in Manikarnika, Kangana has made Jhansi Ki Rani alive once again. Kangana zindabad ! Maharani Jhansi zindabad !".