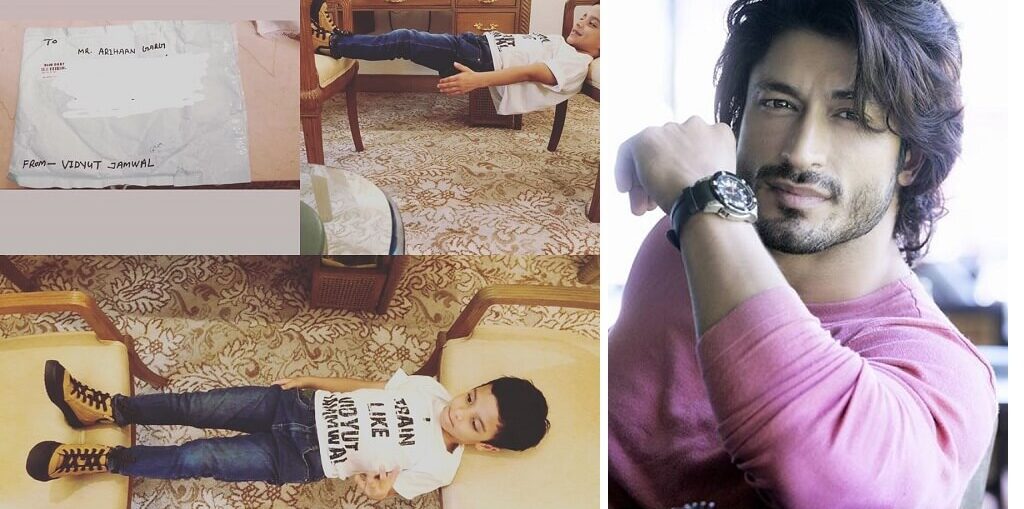 Vidyut Jammwal is at the top of his game following the success of his last film Khuda Haafiz and that has resulted in his augmented fan base. The action star, who is known to have loyal fans, does his best to connect with them and show them that he is mindful of them.
Most recently, the Junglee actor surprised his 6-year-old fan, Arihaan Garg, who is a renowned athlete. Vidyut made the little one's birthday special by gifting him a T-shirt that reads 'I Train Like Vidyut Jammwal' and sure enough, the birthday boy does train like his idol if his social media feed is anything to go by. Arihaan can perform challenging dips, squats, push-ups and gymnastics just like the action hero he admires.
Touched at Jammwal's gesture, Arihaan's father (Gautam Garg, who handles his son's social media handle) expressed gratitude by posting a picture of his son in the T-shirt. In the caption space, he wrote, "Birthday Made even more special by receiving this gift from an inspiration @mevidyutjammwal It felt like a true fanboy moment! ❤️ His excitement was next level! Really grateful for this gesture @mevidyutjammwal Thank you for making Arihaan's birthday even more special! THANK YOU SO MUCH ! ❤️"
Vidyut is one of the rare fitness icons of the country with fans wanting to emulate his training style. #ITrainLikeVidyutJammwal and #AbYeKarkeDikhao have been two of the actor's most popular segments in the digital space. Jammwal also created a chat forum titled X-Rayed By Vidyut, that showcases his conversations with the biggest legends of the action world. On the movie front, the actor has Khuda Haafiz Chapter 2 on his slate.